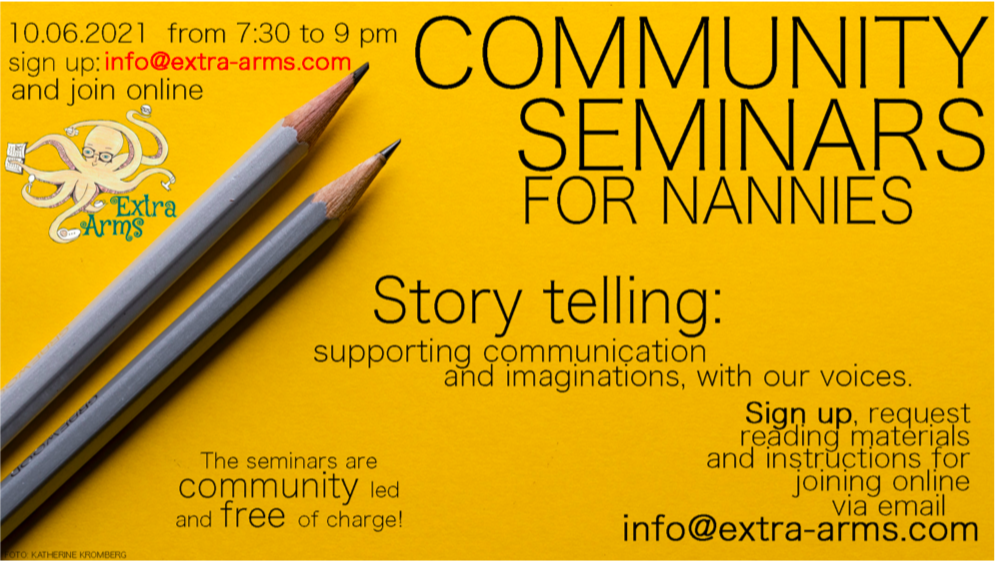 Our
Community Seminars
are designed to foster exchanges between Nannies on topics that are relevant to the day to day practice of caring for children.
Each month we will delve into a different topic, developing a short reading list in preparation of each seminar.
The aim of the seminars is to build a strong, knowledgeable community of peers who are able to support each other in thinking critically about the way they choose to care for children.
Drop us a line at info(at)extra-arms.com to sign up and request reading materials. The day before the seminar all those who signed up will receive instructions on how to join us online.

The Carer Academy
provides
quality training for Nannies
and allows parents to explore key aspects of childcare.
We wish to bring all who care for children within a home setting together, to learn from our speakers, and from each other's experiences. One of the most enriching aspects of providing childcare within a family home is the vibrant, everyday exchanging of ideas and beliefs that happen between the the adults that are entrusted with the care of a child.
We will cover the basic elements of each topic during the sessions, and will provide reading lists and other materials: we wish for all to continue delving into the nuances of each theme both individually and through the continued exchange of resources and perspectives with other course participants.
Next Module:

Watch this space for news on new modules!

The
Nanny Chats
are open to all Nannies working through Extra Arms and are intended as a chance to spend time together with colleagues, share stories and advice.
It is also a chance for our Nannies to touch base with the agency and update us on their progress. Nanny work can be isolating: together we want to build a strong, informed and supportive community.